Current Status of the Effort
In February 2017, A Better South Walton (ABSW) pulled the South Walton incorporation referendum local bill from consideration during the 2017 Florida Legislative session. ABSW pulled the bill because from all indications our local delegation did not support incorporation or even allowing the citizens the right to vote on incorporation. … read more
Upcoming Events
A Tale of Three Cities...What it's like to be a city.
Please join us on
May 9, 2018 at 5:30 p.m.
at the Rosemary Beach Townhall, South Barrett Square in Rosemary Beach. This forum is
free and open to the public.
A Better South Walton (ABSW) is proud to present
"A Tale of Three Cities...What it's like to be a city"
, a series of three forums designed to provide attendees with first-hand accounts of the real-life challenges and successes from several incorporated Florida cities. Our first forum will feature
Nick Batos
, who served as the
first Mayor of Estero in Lee County.
Mr. Batos is a retired executive who led the successful effort to get the incorporation of Estero on the November 2014 ballot. It passed by a resounding 86 percent. Don't miss your chance to hear Mr. Batos' story of how the Village of Estero moved from a grassroots citizen organization to
"A Village with a Vision"
and get your questions answered.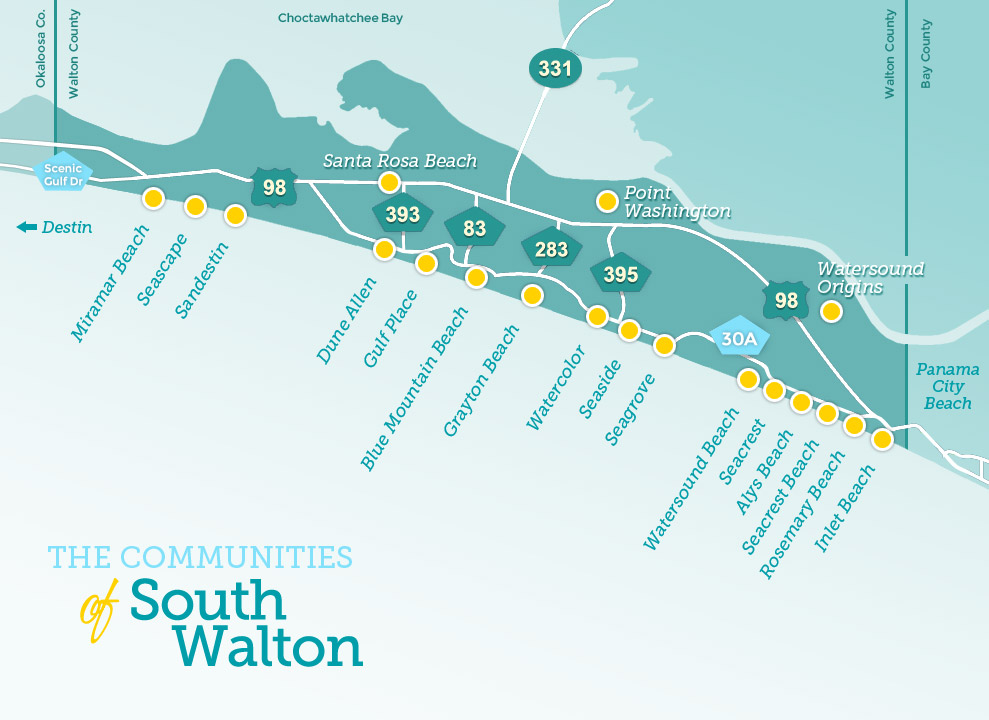 Schedule a Meeting With Us
After a year and a half of research and study ABSW has held multiple community meetings to present our findings and conclusions. We want to continue the dialogue with the community. If you have a group that wants to talk about the incorporation of South Walton as a municipality, we want to meet with you! To schedule a meeting with A Better South Walton email us at info@abettersouthwalton.org. We look forward to meeting with you.
Walton County Info
Resources & Statistics
Walton County is Florida's 41st most populous county, with 0.3% of Florida's population. Click the link for helpful links and resources for Walton County, Florida, government agencies, departments, committees and online resources, as well as extensive statistical data.
read more
Send us a Note
Do you have a comment or suggestion to send us? Do you want more information about incorporating South Walton?